In an earlier blog I alluded to the fact that I wasn't convinced I was ready for another year of Project 365. I'm committed to finishing out 2012 (November is almost complete) but loved the freedom I felt at the end of January 2nd when I realized I had no photo-of-the-day and dindn't need one.
But I do want to continue to grow as a photographer, and to continue to capture daily life in my little family.
So I did make a few goals.
1. Continue to take a montly photo of my family.
2. Do some sort of monthly highlight collage.
3. Take more video of my family. Learn to edit and create video montages.
4. Devour and be inspired by my subscription to this magazine. Already happening. 
5. Participate in Simple Things Sunday weekly. 
I have subscribed to the Simple As That blog for years now, and love her "Simple Things Sunday" - a weekly link party of a photo capturing a simple moment. I hope to challenge myself to have one photo I want to include each week.
So this is week 1 of 2013. 
Dani and her Aunt Ta* enjoying a duet on the Wii. We got a wii as a family present this Christmas, and Gran purchased the girls a microphone each and the Disney singalong game. We loved playing this together when our family gathered on New Year's Day and I am so thankful for the Aunts and Uncles in the girls' lives.
 Linking up.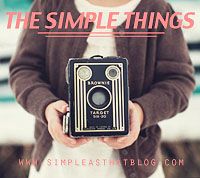 *When Daisy was little she called Dakota "Aunt Ta" when she couldn't quite get her whole name out. Dakota is the only Aunt with a nickname and although both girls can easily say "Dakota" now, we all still use the shortened version.